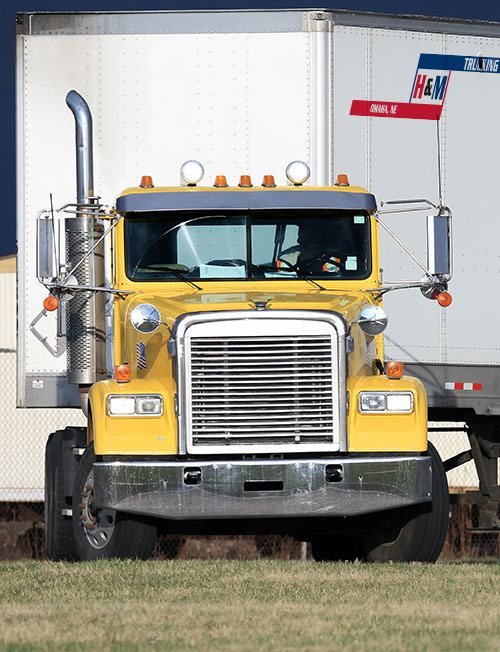 IT'S NOT JUST WHAT WE DO, BUT HOW WE DO IT.
No matter how hard the job, we make it easy to work with us. Here, you'll find a full range of service options that meet your needs for transporting dry goods, bulk ingredients and hazardous materials. You'll also discover a lot more – like people who cultivate one-to-one relationships with you, a commitment to finding solutions for even the most demanding projects, a solid and financially sound company, along with safety ratings and insurance protections that go above and beyond.
From initial contact, through load planning, dispatch and delivery, H&M Trucking in-house staff and drivers work together to ensure seamless operational flow – regardless of the load, the logistics or the deadline. We do this with:
Dedicated equipment that includes company-owned fleet of late-model trucks, trailers and hoppers
Real-time load tracking via our Web-enabled customer portal
Access to company management 24/7
Authority in 48 U.S. states and Canada DRY VAN
To accommodate a variety of loads, while maintaining optimal cargo conditions, H&M Trucking dry van services use 53-foot dry vans with air-ride trailers to transport agricultural commodities, electronics, furniture, consumer goods, magazines, food ingredients, finished products and more throughout 48 states.

HOPPER
H&M Trucking offers hopper services to carry goods that include everything from feed ingredients, pet food ingredients, feed additives, seeds, grain, fertilizer, mined minerals and organic grains. We utilize 43-foot high-sided grain hoppers, with air-ride trailers to ship cargo across the country. PROTECT FROM FREEZE/HAZARDOUS MATERIALS
We understand the regulatory issues that surround hazardous materials shipment. H&M Trucking has 48-state authority to transport a variety of materials – both hazardous (HAZMAT-certified) and non-hazardous. This includes agricultural and industrial chemicals. Our freeze protect service is ideal for cold-sensitive biopharmaceutical payloads.