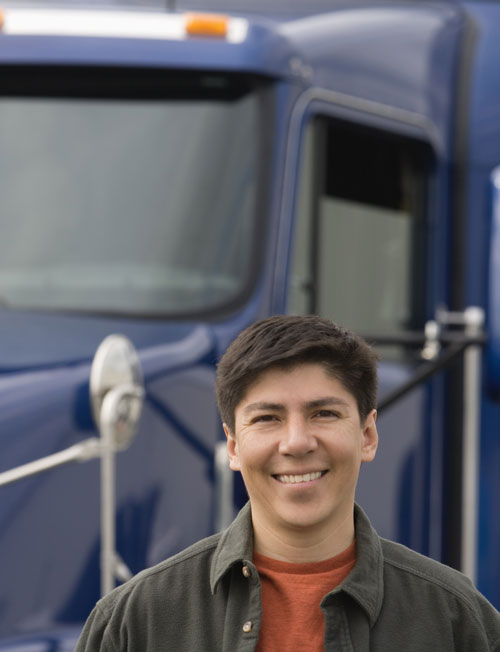 KEEPING YOU HAPPY IS WHAT WE DO BEST
At most trucking companies, driver turnover can be high. But not at H&M Trucking. Our drivers come here looking for a home that cares about them and a culture that continues to reward them for the contributions they make to our success. You'll be part of a company where the president could very well call you personally to recruit you to our team – or thank you for a job well done.
You'll be supported by people who may not remember your truck number, but we do know your wife's name, what your kids are up to and that we need to send you off with a treat for your dog. "What's important to you?" Chances are, you'll find it here at H&M Trucking.
WHEN YOU DRIVE FOR H&M TRUCKING, YOU'LL RECEIVE:
Dry Van – A dedicated, late-model truck (drop and hook loads)
Hopper – A dedicated truck and trailer
52 cents per mile starting pay (49 cpm + 3 cpm monthly bonus)
Additional HAZMAT pay at .02 cents per mile
Clean inspection pay, with Level 1 inspections paying $100
Annual pay increases after anniversary date
Rider Program – no waiting period, ages 10 and up!
Pet Policy – we know your pets are family! Up to two animals allowed, cats or dogs only
Truck amenities provided such as refrigerator, TV mount, power inverter, XM Radio, in-cab scanning and Omnitracs communication (Qualcomm), PrePass/PrePass Elite
NO DRIVER FACING CAMERAS – EVER!
WHAT WE LOOK FOR IN A DRIVER:
Class A CDL
At least 23 years old
At least 12 months verifiable Class A experience w/ graduation certificate or 24 months verifiable Class A experience without
No alcohol or drug related offenses in the last 5 years
No Reckless Driving convictions in the last 5 years
No cell phone violations
No failed drug tests
Acceptable PSP score
Commitment to safety
"I have worked for probably half a dozen companies in my 18 year career, trying to find the right fit. I can say that this is hands down the best company I've ever worked for…from the family atmosphere to the pay, benefits, to the home time, the list goes on and on. I have no doubt I'll retire from here. I have found a home."
Daniel H.
"We have been with the company for a little over 4 months and couldn't ask for a more family oriented company to work for….not only do we drive brand new equipment that is well maintained this is a company that keeps their word. We have no worries out on the road, our pay is always right, fuel card always works and dispatchers keep us busy. thank you again to everyone at H&M for a allowing us to be part of the hopper family"
Karen C.
"Words can't even begin to express how much I appreciate H&M trucking, and what a wonderful opportunity that you have given my husband, Tony Grossman. I don't think he's ever been happier."
Juliette O.
"What's not to love. The say what they mean, and mean what they say. Honest, upfront, and they listen and respond to their employees. Management is open to suggestions and are will to put the suggestions into action. I love working here."
Gene P.
"H&M is hands down the best company I have ever driver for. They mean what they say, and say what they mean. Their equipment is immaculate and well-maintained and everyone is friendly and professional. Dispatchers are friendly, caring and always appreciative of their drivers."
Ken M.
"H&M is not a bunch of acquaintances working for a company. Everyone that I have met have been like friends. I have been here for 2 yrs and have never been treated better by any one I have ever worked for. If you have a problem someone will solve it for you. You are not put by the wayside…the company is prompt on answering the phone when you call and the dispatchers are very knowledgeable about their job. Thanks for bringing me in I will be here for as long as the company is around or I retire which won't be for a long time if I can help it."
Donald J.
"My husband just started with this company and all I can say is it's nice to be a name again and not a number."
Tammy L.
"Very good job. Nice people to work with and they keep you moving all the time, good money."
Jeff K.
"Good equipment, nice people, gets you home when needed. Shop guys are good people along with breakdown staff. Good dispatcher who doesn't micro manage you."
Rick G.
"It is by far the best company to drive for. They continue to treat ALL employees here with respect and upfront honesty. This will be my last driving job, because I'm not going anywhere else."
Kerry H.
WANT TO BE AN OWNER/OPERATOR H&M?
We want what's best for our drivers. If that means becoming an owner/operator, we'll even sell you an H&M truck and allow you to move to an alternate pay program. If you're already an owner/operator, we're happy to talk to you, too. We do require you to meet our driver requirements and drive a truck that is no more than 10 years old that meets our rigorous DoT inspection.
APPLICATION