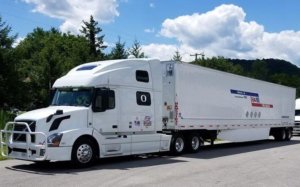 Freight Hauling – One-Time Moves & Long Term Contracts

H&M Trucking is an Omaha, Nebraska based trucking company that services 48 states and Canada.
We specialize in many areas including hazmat, tanker endorsed, lift gate, bulk commodity as well as protect from freeze shipments between our 2 divisions. Our tractors are 3 years or newer, our dry vans are 10 years or newer and our hopper trailers are 5 years or newer. This ensures we can provide our customers with excellent customer service and care.
Fill out our form below or call us for a customized quote. We'll be able to get you a quote within 5 minutes. DRY VAN
To accommodate a variety of loads, while maintaining optimal cargo conditions, H&M Trucking dry van services use 53-foot dry vans with air-ride trailers to transport agricultural commodities, electronics, furniture, consumer goods, magazines, food ingredients, finished products and more throughout 48 states.

HOPPER
H&M Trucking offers hopper services to carry goods that include everything from feed ingredients, pet food ingredients, feed additives, seeds, grain, fertilizer, mined minerals and organic grains. We utilize 43-foot high-sided grain hoppers, with air-ride trailers to ship cargo across the country. PROTECT FROM FREEZE/HAZARDOUS MATERIALS
We understand the regulatory issues that surround hazardous materials shipment. H&M Trucking has 48-state authority to transport a variety of materials – both hazardous (HAZMAT-certified) and non-hazardous. This includes agricultural and industrial chemicals. Our freeze protect service is ideal for cold-sensitive biopharmaceutical payloads.
Get A Same-Day Quote

You can either call us or fill out our form below with your information. We will be able to get you a quote right away.
Want us to contact you? Fill out our form.
We've been in business for 33 years, so we have experience behind us and know what we're doing.
We have more than 250 trucks, so finding an available truck when you're in a bind will be easier with us.
We're able to haul hazmat materials unlike a lot of other trucking companies.
We have superior customer services that is driven by a commitment to do the right thing in all situations.